We gather on a Sunday morning to spend time worshipping God, reading the Bible, listening to a talk and sharing life together. Come and join us.
Whether you're new to the area or simply passing through, you are very welcome to join us.
How do we meet in a crisis?
In response to the COVID-19 pandemic, we've moved to online services each Sunday.
You can join these on our dedicated page here or on our YouTube and Facebook channels.
We'd love to connect with you – drop us a note if you'd like to find out more.
Here's how things happen when we meet in person!
We have two services on Sunday mornings – 9:30 and 11:30. To give you an idea of what to expect on a Sunday morning, here's a typical service:
We'll begin with a time of prayer, praise and worship and usually includes a children's talk, after which the children leave for their own activities. There is then a time of worship and prayer before a talk for around 25-30 minutes. The service usually concludes with a short time of worship at which time individual prayer is available for those wishing it.
There's time to catch up and share with people after each service with tea and coffee being served. Bring your own mug to help us reduce out impact on the environment!
Our gatherings are very welcoming – you don't need to dress up (but we won't stop you).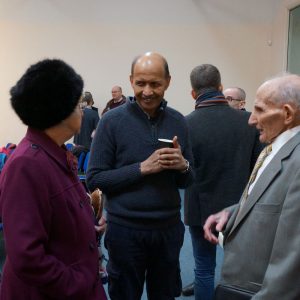 Both services are similar in format and structure. We provide two times to accommodate the number of people God has drawn to be part of the KCC family.
We share communion together on the first Sunday of each month when there usually be a shorter talk around the table. We welcome all who believe in Jesus to share communion with us.
Youth church meets each Sunday between services for S1 to S4
(An offering is taken during each service to cover the running costs of the church and to support Christian mission activities.)