We are an independent evangelical church meeting in our building at 70 Main Street, Kirkliston.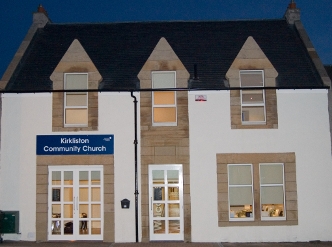 We welcome anyone who is interested in the Christian faith to join us at our services where the atmosphere is relaxed, friendly and informal.
A large number of those in our present congregation were previously members at a thriving church, Bellevue Chapel, in the city of Edinburgh. This church, having out-grown the capacity of its building, felt called by God to start a new church in the outskirts of the city and after much prayer and consideration was led to locating this new church in Kirkliston. Several families who attended Bellevue Chapel also live in the area and had a strong desire to be involved with a church within their local community.
We enjoy a good relationship with Kirkliston Parish Church of Scotland, meeting together as leaders and working together in Kirkliston Primary School assemblies, gala days, remembrance services and Christmas Eve services.
You can see how we refurbished the building on Main Street, Kirkliston in this short video.